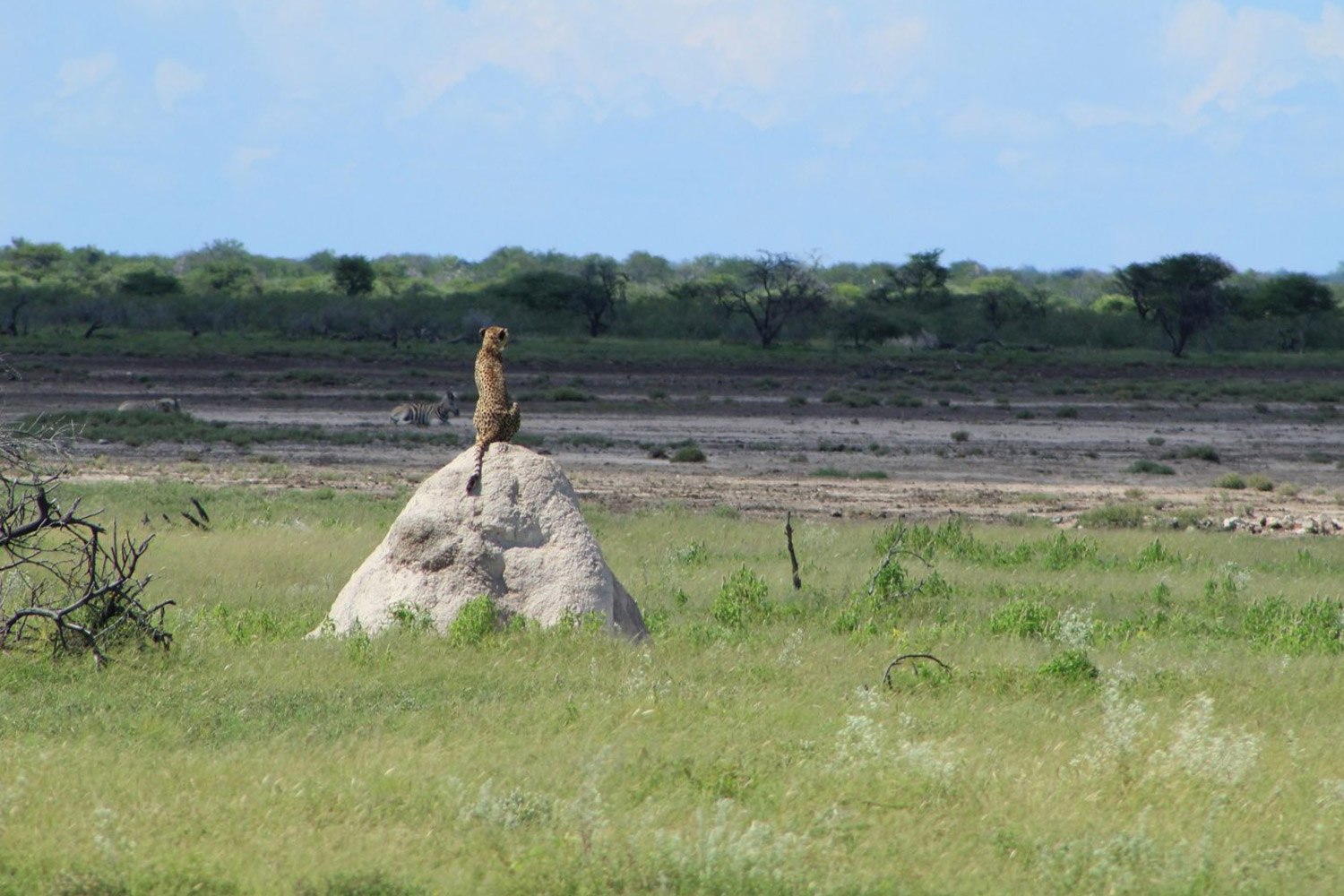 With little work to do during the lockdown, and our daughter on an extended school holiday, we took the opportunity to go to Etosha National Park for the day this month. And what a day it turned out to be, with a rare sighting of cheetahs in Namibia.
We always enjoy visiting the eastern side of Etosha in the late rainy season. It's an opportunity to see the babies that have been born to the springbok, black-faced impala, wildebeest and hartebeest. But it's also a great time to see all the seasonal waterfowl visitors.
Water at Namutoni
These late rainy season trips have been disappointing the last two years, because of the drought. We drove to Namutoni in March last year, and as we approached the rest camp we saw water in the pan! However, it turned out to be a very convincing mirage, and the pan was completely dry…
This time, as we approached Namutoni, we could again see a shimmer on the pan… And it turned out to be water! We were rewarded with sightings galore: whiskered and white-winged terns, adorable little Kittlitz plovers, glossy ibis in their usual spot by the eastern part of Fisher's pan road, African shelducks and knob-billed ducks, great white pelicans, African spoonbills, various small waders, and a beautiful pair of greater painted-snipe.
A rare sighting
However, the highlight of the day was much more unexpected. Just a few kilometres before Namutoni, Danie thought he saw a cheetah! You do occasionally see cheetahs in Namibia, but it's a rare occurrence. We stopped, and at first couldn't see anything because the grass was so long. But after a few minutes, she popped her head up and we all got a chance to see her.
But the best was yet to come. After patiently waiting for her to become more visible, she rewarded us by climbing on top of the termite hill she'd been using for shade. And there she sat, posing perfectly in various positions, for nearly half an hour!
Eventually we moved on to our birding around Namutoni. But on our way back west – late in the afternoon – just a few kilometres from where we saw her earlier, we again found our cheetah. This time she was panting heavily in the shade of a small thorn tree next to the road, with a freshly-killed one-year-old impala ram in front of her.
The drive to Namutoni and back from Vreugde Guest Farm in one day is not for the faint-hearted. It's a long drive there, a long drive back, and the main roads are not always particularly comfortable to drive. But Etosha continues to surprise us, again and again, and is always worth a visit.