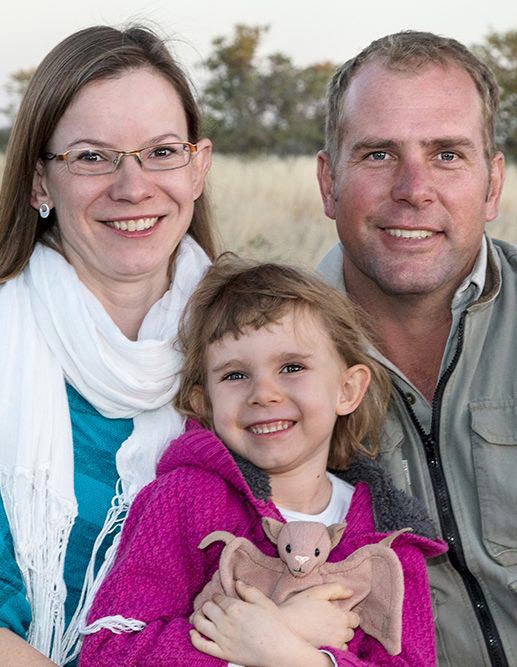 The meaning of the word "Vreugde" is joy, and that is what we strive to offer on our guest farm in Namibia
Vreugde Guest Farm, Namibia, is a small, friendly, family-run business. It's a much-loved place to stay, renowned for great food and hospitality, all served up on a real Namibian working cattle farm.
Vreugde Guest Farm is situated in the heart of Namibia, just 30 minutes' drive from the Etosha National Park's Anderson Gate. It's a perfect stop-over for couples, small groups or families alike, as it offers comfortable and affordable accommodation.
We have a large, lush garden offering you plenty of places to sit in the sun or in the shade. The farm also has an inviting swimming pool for you to cool off after a long day driving.
We offer activities including guided Etosha tours, as well as farm drives / sundowners, and walks around the farm.
Meet your hosts
Husband-and-wife team Danie and Rachel Brand run Vreudge Guest Farm. Danie's mother began the guest farm in 2001, and still plays an important part, with Danie and Rachel running the business since 2015.
Danie is a fifth-generation Afrikaans-speaking Namibian, who met his British wife Rachel while they were both students in Etosha National Park. They're both passionate about wildlife, with excellent knowledge of Etosha and its flora and fauna. 
Standing apart from lodges in Namibia
The farm has been in the family for nearly 100 years, and has always been a cattle or sheep farm. It's now home to three generations of the Brand family, along with three families of employees.
For some unknown reason I had mixed up the dates for our stay at Vreugde but Rachel managed to accommodate us for which we were very grateful as we had... read more driven a long way to get there.
The accommodation was good, the grounds very well laid out with a nice pool area. Parking is right next to each bedroom unit which is really helpful.
However, it is the welcome that you receive that is memorable, Elsie is so welcoming, efficient and the ultimate 'Everybody's Mum', she gets all the little things right which makes your stay at Vreugde so memorable.
Breakfast was very good but dinner is an experience in itself, Elsie explains to diners what the food is, where it comes from and how it is cooked, even the cook is introduced to everyone to make it an inclusive experience.
The guest house is a great place to stay as it is only half an hour from Etosha but we would have like to have stayed another night (the one we actually booked). It is a special and friendly place to stay

geedeebee


9/30/2019

We spent 3 nights at Vreugde Guest Farm in Namibia and it was the highlight of our trip. Room was comfortable, hospitality of Danie & Rachel was unmatched and the... read more food was great as well. We did a tour of Etosha National Park with Danie...More

Margwain


10/02/2018

Spent four nights here at the start of our Namibian adventure. On arrival it's like arriving at an oasis after a long trek from Windhoek. We received a very warm... read more welcome and shown around. A very small guest farm thus ensuring a very personal service.
Dinners were delicious either in the dining room or outside. Pool was very welcome after a day in Etosha.
Our hosts could not be faulted and I could happily spend a month here. We'll definitely revisit at some point.

raydenjan


12/30/2019